---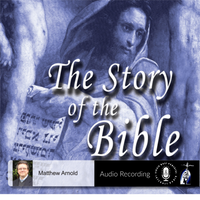 The Story of the Bible combines professional narration with Gregorian Chant and a lush orchestral sound-track reminiscent of a fine film score.

DISCOVER THE STORY BEHIND THE GREATEST STORY EVER TOLD!
The Holy Bible is without question the most popular book of all time. It has been translated into more languages and is available in more versions than any other book in history. But what is it about this particular book that makes it so unique? Where did it come from? And by what authority do millions around the world believe it is the very Word of God?
This powerful production provides a truly "painless" way to share the essential truths about the Bible with the young, the unchurched and our separated brethren. Many will experience for the first time the importance of understanding the inspiration and canonization of Scripture, the role of Tradition and the absolute necessity of proper interpretation of the Sacred Page.